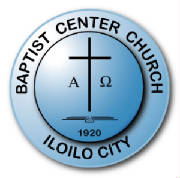 Welcome to Baptist Center Church!



Therefore, my dear brothers, stand firm. Let nothing move you. Always give yourselves fully to the work of the Lord, because you know that your labor in the Lord is not in vain. (1 Corinthians 15:58 NIV)

VISION

A Bible believing church vigorously winning souls for
Christ and growing Christ-like
Through the avenues of learning,
Serving and glorifying God.


MISSION

Baptist Center Church is committed
To spread zealously the Christian
Gospel; to encourage a unified, caring
And loving congregation; to grow
In the study of God's words;
To serve others;
And to live Christ-like lives
For the glory of God.





Worship Services Schedule

Early Morning Service
Sunday 7:15 A.M - 9:00 A.M.

Midmorning Worship Service
Sunday 9:30 A.M - 11:30 A.M

Vesper Worship Service
Sunday 5:00 P.M.- 6:30 P.M

WEDNESDAY PRAYER MEETING
6:00 P.M.
Please get in touch to offer comments and join our mailing list for announcements and special events.

Luna St., La Paz, Iloilo City, Philippines 5000
Email: bcciloilo@yahoo.com.ph
Web: http://bcciloilo.tripod.com